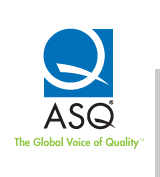 American Society for Quality Certified Quality Engineer Preparation Course
​​
​
Program Overview
Prepare for ASQ's Quality Engineer Certification (CQE) exam with this comprehensive course that includes industry-relevant content, pertinent examples and exam-style practice questions.
The course reviews all the topics in the CQE Body of Knowledge (BoK) so that you can reinforce your current knowledge, refresh concepts and applications that may not be used in everyday work, and strengthen your exam preparation process.
The Certified Quality Engineer Certification Preparation course is developed and reviewed by a team of ASQ-certified subject matter experts and conforms to the same writing standards that are used on the exam.
The course begins with a pretest that you can use to identify areas of study to focus on. The content is arranged in the order of the BoK and built to prepare you at the appropriate Bloom's, or cognitive, level. The content includes illustrations where applicable, examples, and progress check questions. A post-test is also included—compare your pretest and post-test results to verify improvement in your scores after you've completed the course materials.
The benefits of attending this course:
Review

the content covered by the seven sections in the Certified Quality Engineer BoK.

Guide your study by identifying your specific areas of strengths and weaknesses as it pertains to the CQE BoK.

Become

familiar with questions similar to those on the ASQ Certified Quality Engineer exam.
Program Agenda
The following proposed agenda is subject to changes by the client for the ultimate benefit of improving the training ROI of delegates and the client organization. The schedule duration can also be lengthened if the client wishes to enable delegates to achieve an even deeper understanding.
Course Modules:
Module 1:

Course Introduction

Module 2:

Management and Leadership

Module 3:

The Quality System

Module 4:

Product and Process Design

Module 5:

Product and Process Control

Module 6:

Continuous Improvement

Module 7:

Quantitative Methods and Tools

Module 8:

Risk Management

Module 9:

Finale
Who Should Attend?

The course is suitable for:
The CQE certification preparation course is an excellent tool for anyone interested in preparing for and pursuing the CQE certification.

Course Prerequisites
One year of experience as an Engineer who practiced Quality management.
Learning Methodology
The learning methodology is highly interactive, consisting of a balanced mix of short presentations, the Course Director's extensive experience in this specialized field, handouts containing key articles and topic support, dialogue about leading practice, delegates' own ideas, experiences and Q&A, sharing of knowledge, discussions, feedback, scenarios, case studies, practical examples, individual and group exercises designed to assist the participants to gain a working knowledge of the topics taught and to embed the skills.

Course Duration:
6 hours per session, one session per week for 13 weeks to a total of 78 hours.